Need A Great Kitchen Blender To Quickly & Conveniently Prepare Your Meals?
Vitamix E310 Explorian Series is your good choice!
Vitamix machine is worth every cent you pay for.
Vitamix is used in world hotels & restaurants, drink stalls,
So How About Transferring The Same Quality to Your Home?
There is a dial that regulates the speed of the motor. This motor works well, irrespective of the amount of food content which has been placed. The appliance has a speed of between 11mph and 240 mph. This is a far cry from your conventional blender, and is part of the reason why Vitamix stands out from other brands.
Two types of blades: the wet and the dry. The two types of blades work differently, but the similarity between them is that they preserve the nutritional value of the food. When compared to other blenders, Vitamix delivers up to thrice the nutritional content and this is definitely an advantage for the user. In addition to the blades, the appliance also has a stainless steel hammermill.
When using the Vitamix appliance, there is a long lasting container whose purpose is to direct each food particle to the blades' action to ensure great results each time the blender is used. This container is also referred to as the 'wet' container. Consequently, there is a 'dry' container whose function is to grind grains and dry food stuff. Examples of foods used in the dry container include beans, soybeans and rice, particularly when you want to get home made flour.
With such effective blades, the manufactures had to come up with a fool proof way to prevent damage to the blades and containers. For this reason, there is a device known as an accelerator tool, and whose purpose is to avert the harm of cutting blades. This has also been shown to aid in blending viscous mixtures relatively easy.
Vitamix E310 Explorian Series, Professional-Grade
Step up to better blending with high-performance Explorian Series, with exhilarating power and proven durability. The latest Classic Vitamix model that was released in 2017. It has the power and functionality with minimalist look and feel.
Functionality and Versatility
Smoothie: The blender makes perfectly smooth and free of chunks smoothies from absolutely any raw fruit or veggies including carrots, beets, lemons, pineapple, and others. It obliterates any berries into a juice-like texture without any seeds residues left in the drink.
Green Smoothies: The Vitamix Explorian E310 is more than perfect for making the green smoothies from any type of leafy greens including spinach, kale, cabbage, collard greens, or fibrous celery.
Ice Crushing and Frozen Treats: The machine pulverizes the ice into the perfect snow consistency without any efforts. So it can produce snow cones, ice cream, slushy drinks, or restaurants like daiquiris. A tamper is an essential tool during processing the ice or frozen ingredients.
Whole Juice: The Vitamix blenders are not the juicers and will not make the classic style juice but they are ideal for making smoothing smoothies aka "whole juice". For the best result, you can separate fiber from the liquid using the strainer or nut milk bag.
Soup and hot ingredients: This gadget is designed to handle hot ingredients. So it is not only able to process hot liquid for soup, heat liquid with frictions. The machine will heat the liquid from the room to the steaming hot temperature within just 6 minutes of continuous blending.
Chopping/Food prep: The machine equipped with the 10 variable speeds and pulse function, and thus can prepare chef-quality hummus, salsa, salad dressing, and other dips and sauces. The PULSE function is also useful for chopping veggies and nuts. So you have no problem to make perfect cauliflower rice of pesto. If you are vegan this machine will be indispensable for processing cashew or almond vegan cheese.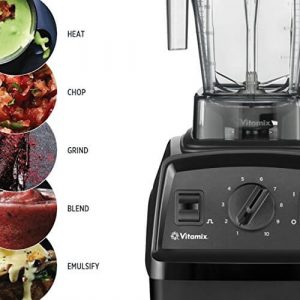 Pureeing and baby food: This fantastic machine can puree almost everything from potato to carrots without any liquid added and produce flawless mashes or baby food.
Nut Milk: The Vitamix Explorian E310 machine have more than enough power to process nut and water into perfectly homogeneous nut milk. Use a nut milk bag to separate fiber for the better result.
Nut butter: It makes great almond, cashew, peanut butter, or any other nut butter without adding any oil. Just place raw or roasted nuts into the jar and turn the blender on. You will have to use a tamper to push nuts down to create a better vortex and within 1 or 2 minutes you will get the creamiest and delicious nut butter.
Dough and batter: The Explorian E310 kneads without much effect perfect bread or pizza dough, cookies, or pancakes batter.
Grinding and milling: Dry blade container is available for flour milling, grinding or spice grinder. It can finely grind flax seeds, making powdered sugar, grind coffee, wheat, rice, buckwheat as well.
These gadget can easily replace kitchen appliances like coffee grinders, ice cream makers.
Speed Settings and Programs
If you look at the control panels it is minimalist and so simple to use. 10 variable speeds Dial Knob, Off/On, and Pulse Switches. You activate the Pulse function for chopping veggies, nut or whenever you need.
The E310 is equipped with radial cooling fan and thermal protection where the machine stop operating if the motor is overheated or overloaded. The E310 package comes with a 1.4L container which you can process both wet and dry food equally well but milling and grinding will gradually make it cloudy. There is the optional 32oz DRY container which you can buy separately.
What Are The Accessories That Come With It?
The E310 Home package comes with a 1.4L container, tamper tool, Black motor base and a recipe book.
Vitamix Fuels Passions
That's why the brand is most trusted by professional chefs. But you won't just find Vitamix in restaurant kitchens. You'll also find Vitamix in home kitchens around the world. Because whether you're interested in the culinary arts, making healthier choices, or enjoying restaurant-quality smoothies at home – when you're ready to move on and move up, when you're ready to invest in your passion, you're ready for Vitamix.
If you're looking for a Top Performance Blender that will not fail you, keep making smoothies and food preparation for yourself and family, look no further.
Why Vitamix:
We are the brand trusted by professional chefs. But you won't just find us in restaurant kitchens. You'll also find us in home kitchens around the world. Because when you're ready to invest in your passion, you're ready for Vitamix.
Feel the Power:
Vitamix machines have the power to pulverize ingredients, releasing flavors and marrying them together to create better-tasting blends. When a blender can help you transform healthy ingredients into foods you actually want to eat, people notice.
Built to last:
A bargain blender's not a bargain if it doesn't last. We know purchasing a Vitamix blender is an investment. But Vitamix blenders are built to last, helping you buy dependable, not disposable.
Power:
We don't aim to have the highest horsepower. You don't need more Horses; you need trained ones. The focused power of our complete blending system causes every component of the Vitamix machine to work together, creating faster, smoother blends packed with flavor.
Precise Textures:
Since the number-one reason people purchase a blender is to make smoothies, it's important to get them right. Whether you prefer an icy blend or a perfectly smooth purée, nutrition-packed with veggies or a light, fruity treat, Vitamix smoothies give you a delicious, even blend in every sip.
The difference is in the blend:
Since the number-one reason people purchase a blender is to make smoothies, it's important to get them right. Whether you prefer an icy blend or a perfectly smooth puree, nutrition-packed with veggies or a light, fruity treat, Vitamix smoothies give you a delicious, even blend in every sip.
The universal tool:
Make smoothies & juices, hot soups, flours & dough, nut butter, frozen desserts, batters, dressings & sauces, non-dairy milks, and more.
Stainless Steel Blade
We know purchasing a Vitamix blender is an investment. That's why our blenders are built to last. We use hardened stainless steel for our blades, a metal drive system, and a cool-running motor, so you get the same quality results from your first blend to your last.
Easy to clean:
Just blend warm water and a drop of dish soap at your machine's highest speed, and watch it self-clean in 60 seconds or less – no disassembly required.
I finally did it! I got a Vitamix. This is everything I've been told and more. So far I've made smoothies from RAW veggies and fruit (including carrots/apples/celery/ginger/spinach/kale/frozen berries/avocados), HOT soup (takes about 5-10min) from steamed potatoes and sautéed onions or steamed veggies (super smooth or chunky), vegan/gluten free CREPE batter (which is more runny than say pancake batter)… And all of it has been delicious and FAST! I am impressed with how well fruits and vegetables are blended for my daily smoothies with just a cup or so of coconut water or coconut milk. I get all the fiber and complete nutrition of everything I include WITHOUT any 'chewing' while drinking them. I didn't realize it was so easy to clean either – you just add water (half full) and a drop or more of dish liquid and run it for 30 sec – then rinse… Done. It has been a wonderful ally in my fitness goals and hugely beneficial to me as a vegan. This size is also perfect for me for daily smoothies or single servings of whatever I make, but also if I would like to make a few servings of soup or drinks and freeze or refrigerate for later. Can't believe I waited so long to get this LOL. Honestly, it's a game changer. This is one powerful machine.
Replaced 5200 Perfectly Used the TNC 5200 w/ 48oz container for 7 years (great warranty service). Twice a day (wife too). Greens, berries, nuts, sunflower and pumpkin seeds, banana with skin every day. Healthiest thing I've ever done. 67 years old – doctor says no advice – just keep doing whatever I'm doing. Gave the 5200 to my daughter in law to try to improve their diet and bought E310. Like the controls better and the smoothies are smoother, even blackberry seeds – tho that is probably due to new sharp blades? Love it! Great deal!
Top-Seller Blender
Satisfaction Guaranteed